About Us
Easy Accounting Services the Pembrokeshire accountant are a team of accountants based in Narberth, Pembrokeshire. We offer a wide range of services to support both small businesses and individual needs.
Our Pembrokeshire accountant team are here to make things as easy as possible for you and for your business; as the name suggests!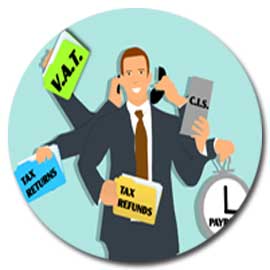 With over 20 years experience of working in both practice and industry, we have the perfect combination of knowledge, skills and expertise to offer you peace of mind when it comes to your business and individual needs. At Easy Accounting Services Ltd we can work with you to help save you time and also improve the efficiency of your business. Our expert team are always on hand always offer the best advice to help save you money and maximise your profits. We will be beside you every step of the way to help your business grow.
Visit us
Please contact us on 01834 218584 to arrange a convenient appointment.
We are situated at Unit 3, Narberth Bridge Business Park, Narberth. Pembrokeshire. SA67 8RA. Why not give us a call and and we can arrange a time and date for a free informal chat about your accounting requirements?
Testimonials
Excellent customer service and high standards of work are our priority. With this in mind it is important to realise not only what we say about ourselves but similarly what our customers have to say about us:
"Lisa is world class and makes what can be quite complex really simple. I highly recommend her accounting services!"  – S. Bhatoa
"I found the team at easy accounting thoroughly professional and quick to respond. They handled the process from start to finish efficiently and diligently. I would recommend them to anyone for tax submissions." – K.Hussain
" I am very pleased with the work Easy Accounting Services have done for me, they have saved me lots of time and money and I would definitely recommend them." –  A. Probert, Pembrokeshire
"My accounts are kept up to date, saving me lots of time and stress, incredible value for money & very helpful. I would highly recommend.." –  C. Mills, Bridgend
Jump straight to : Tax Rebates…Online £99 Self Assessment…Traditional Accountancy Services…VAT…Top