How it works
We make tax returns truly simple and straightforward , if you would like further information; the first step in our easy process is to contact us.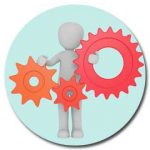 From there you'll be able to Speak to one of our advisers in Narberth about your business and requirements in full details. We will then help you to work out which services you will need. Your adviser will be able to answer any questions you may have.
If you decide to go ahead with the service, you will be assigned your very own, dedicated account manager. Your account manager will be there to guide you through the entire process.
Of course, we will need some information from you. Your account manager will explain exactly what we need, and you can choose how to send us that information.
We will then begin work on the services you require.
We will always contact you when an area of work is completed, and ask you to check, and let your account manager know if you have any queries.
When you are happy with the work that has been completed, just  let us know.  At this stage we will request payment,  your Easy Accounting Services account manager will advise you on ways to pay.
We will then submit any returns to HMRC and you can relax!
Jump straight to : Tax Rebates…Online £99 Self Assessment…Traditional Accountancy Services…VAT…Top