Tax Return Online for Self Assessment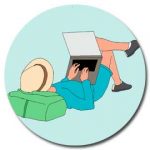 Our Tax Return on-line service is a perfect fit for sole traders, smaller business,  CIS workers, and individuals; our rapid online tax returns service offers unbeatable value for money, with the assurance your return will be fully assessed by a qualified accountant to highlight ways you could save money.
Tax Return On-Line – How It Works
Step 1

– 

Complete the simple form below

Complete the simple application form below for your tax return on-line, without obligation, and one of our experienced tax advisers will be assigned to handle your tax return for you.
Step 2

– 

Provide Information

Your tax adviser will take the time to understand your particular situation, and request relevant information necessary to complete your self assessment tax return.   We understand your time is valuable,  and to make the process as easy as possible, we will request necessary information by email.   We can of course be reached by telephone if you have any questions, or would be prefer to give information over the phone.
Step 3

– 

We complete and file

Once we have received all your information, your tax adviser will analyse your tax situation.  When the analysis is complete we will contact you and let you know if you have a tax liability, any rebate you should could claim, and rebate information you may not have considered applicable to your situation previously.
We want you to save as much money as possible, providing excellent service at the best value, we know you will use our Tax Return On-Line service year after year.
Simply complete this form, and see how much we can save you, today
Got questions?

–

We have the answers!

Please check our Frequently Asked Questions, and if you can't find the answer there, please feel free to contact us.
Additional Services?

–

We have you covered!

Our no-frills £99 +VAT self-assessment tax return does not of course include services beyond creating your tax calculation and submission to HMRC on your behalf. If you require additional services such as bookkeeping, completion of your self-assessment from bank account statements, contacting or appeals to HMRC, production of SA302's for mortgage providers, or just can not provide accurate figures for your income and expenses?  Don't worry, we have you covered, for an additional arranged fee we can offer these services too! From just £25+VAT per hour, you will be delighted by how little it will cost to complete your return.
Information from HMRC…
Registering and sending a return
You need to register if you did not send a tax return last year. There are different ways to register if you're:
self-employed or a sole trader
not self-employed
registering a partner or partnership
If you're new to Self Assessment, you'll need to keep records (for example bank statements or receipts) so you can fill in your tax return correctly.
Sending your return
Once you've registered, you can send your tax return online, or use commercial software or paper forms. You then have to pay your bill by the deadline.
You can get help filling in your return.
Using commercial software or paper forms
You can send a return using commercial software or paper forms.
You must use one of these options to send returns:
for a partnership
for a trust and estate
if you get income from a trust
if you lived abroad as a non-resident
if you're a Lloyd's underwriter
if you're a religious minister
to report profits made on selling or disposing of more than one asset ('chargeable gains')
You must use a paper form if you need to send a tax return for trustees of registered pension schemes (SA970).
The deadline for paper forms is 31 October (or 31 January if you're a trustee of a registered pension scheme or a non-resident company).